About the Book:

Darcy's story and the sequel to Before the Scarlet Dawn:
Eliza Morgan's daughter seeks to unravel a lifetime of memories and the absence of her parents, unaware that the young Englishman who loves her holds the answers. Her search takes her far from her beloved home along the Potomac, to a manor house in faraway England.
Will she discover the secrets of the past and be reunited with the most important people in her life? Will Hayward and Eliza find peace and reconciliation? Will Darcy's faith sustain her to make the difficult choices, and will love endure?

About the Author:

Rita Gerlach lives with her husband and two sons in a historical town nestled along the Catoctin Mountains, amid Civil War battlefields and Revolutionary War outposts in central Maryland. In many of her stories, she writes about the struggles endured by early colonists, with both American and English settings. Her new historical series for Abingdon Press entitled 'Daughters of thePotomac' was launched in February 2012, with Before the Scarlet Dawn, book 1, followed by Beside Two Rivers,and Beyond the Valley to be released in February 2013. In 2009, Abingdon Press released Surrender the Wind, which gained four and five star reviews.
Connect with Rita on Facebook.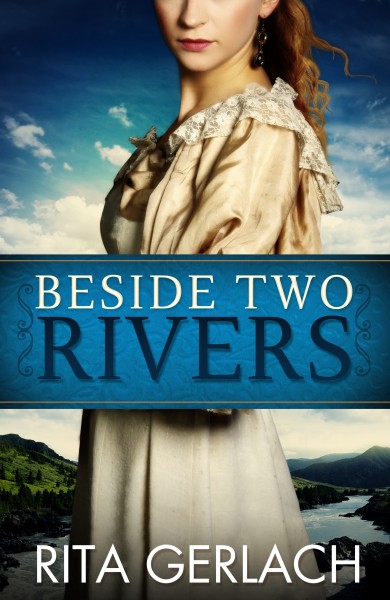 My Opinion:

This is the second installment of a trilogy in which I did not read the first – Before the Scarlet Dawn. I do have the first in my Kindle app so I might or might not read it some day. In this volume we meet Darcy Morgan, daughter of the protagonists of the first book – Eliza and Hayward Morgan. Darcy is a very free spirited girl – usually found walking along the rivers she loves and generally getting into trouble. A bit forward for her time as she is often off alone and in the company of young men unchaperoned. She lives with her Uncle's family as her parents are either dead or missing.

One day the family is invited to Twin Oaks (seriously – Ms. Gerlach couldn't come up with another name for her plantation? Far too reminiscent of Twelve Oaks and Ashley et al.) for a big party. While there Darcy meets an Englishman, Ethan Brennan and his snooty lady friend. Darcy and Ethan spend a fair bit of time together and start to fall in love but Darcy finds that the path to love is not smooth when an ocean separates families.

Ethan heads back for England and just after Darcy receives a letter from her *gasp* English grandmother – of whom she knows nothing – inviting her to visit. Off Darcy heads to England. There she meets her English relatives including the Lord of the manor who tries to hold sway over her while making veiled threats as to her person.

I had a hard time with this book. It read more young adult than adult and if it is someone should have told me 'cause then I would have approached it differently. I can find no comments anywhere that it is anything but a book for adult audiences and in that case I can't take it seriously for that audience. The characters are caricatures in many cases and the plot points are jokes. Maybe I just read too much, I don't know. I have read a fair amount of Christian fiction and don't find it as lacking as this one in the development of the people and places. When the Lord of the manor I mentioned above appeared I swear I pictured Snidely Whiplash in my head. Seriously. I just couldn't find much in this one to redeem it. For a young adult audience – it's slightly better.

I do love the cover though – for both this one and Before Scarlet Dawn.


You can see the rest of the Tour Schedule for Beside Two Rivers

You can purchase Beside Two Rivers on Amazon.com
You can purchase Before the Scarlet Dawn on Amazon.com

Disclosure: I received a copy of Beside Two Rivers gratis from Pump Up Your Books Promotions. Any opinions expressed are my honest opinions and were not impacted by my receipt of the free book. I received no monetary compensation for this post.